What´s hot at the Vitafoods trade fair 2017 in Geneva?
The Vitafoods trade fair in Geneva has traditionally been a meeting place of the leading companies in the nutraceuticals world. 2017 is no different.
From Italian red fruit processor and supplier of standardized polyphenol-rich ingredients, Iprona AG, to Naturex, to DSM and DuPont the list of companies spear-heading the new health nutrition revolution is rich.
Particularly standing out this year is Iprona AG.
The largest processor and supplier of Haschberg black elderberry ingredients as well as other red fruits and exotic fruits, Iprona has continued to push the limit of research into new grounds, the latest, but not least of which is an eye-opening sports study done at the University of Derby. The results of that study were presented at the Vitafoods Center Stage on the 9th of May 2017.
Dr. Matt Higgins, the lead researcher of the study, delivered a convincing argument for Haschberg elderberry extracts as effective ingredients in sports formulations. The extract used was provided by Iprona AG.
In his presentation, Dr. Higgins showed the positive effect which the consumption of a standardized Haschberg elderberry extract has on nitric oxide biomarkers, cardiorespiratory function and post-exercise blood pressure in healthy adults.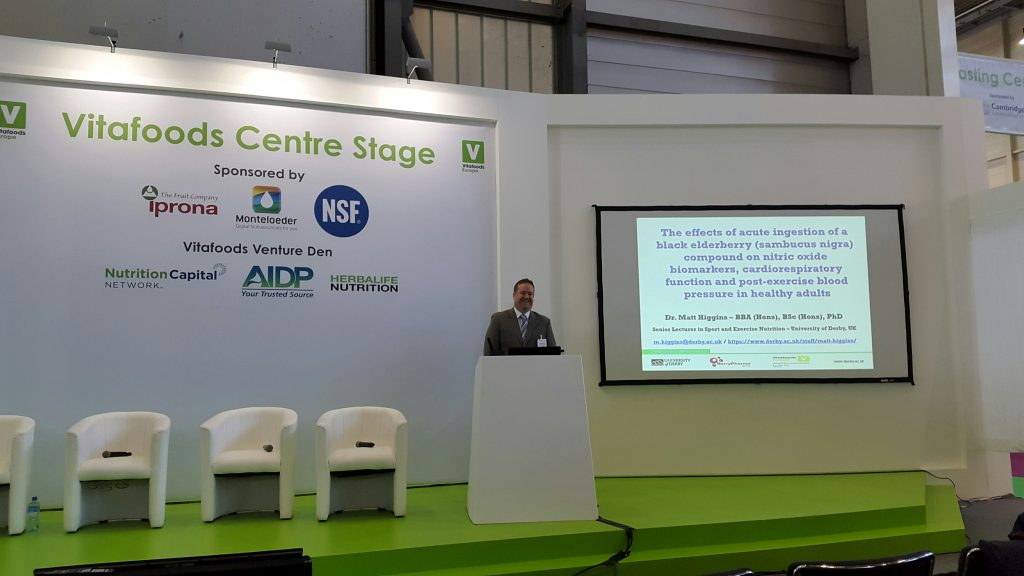 Iprona AG, you would remember, also provided a major milestone with their 2016-published air flight study which showed that consumption of a standardized Haschberg elderberry compound reduced cold duration by 2 days, as well as reduced the symptom severity of cold infections. That human study had 312 participants, making it the biggest elderberry study on humans ever conducted.
At the Iprona stand G52, a competent and friendly team showcases the latest innovative product concepts and finished products, including sticks/sachets for athletic lifestyles, syrups, effervescent tablets and capsules for management of cold symptoms and for immune support, all containing naturally active, standardized non-GMO botanical ingredients.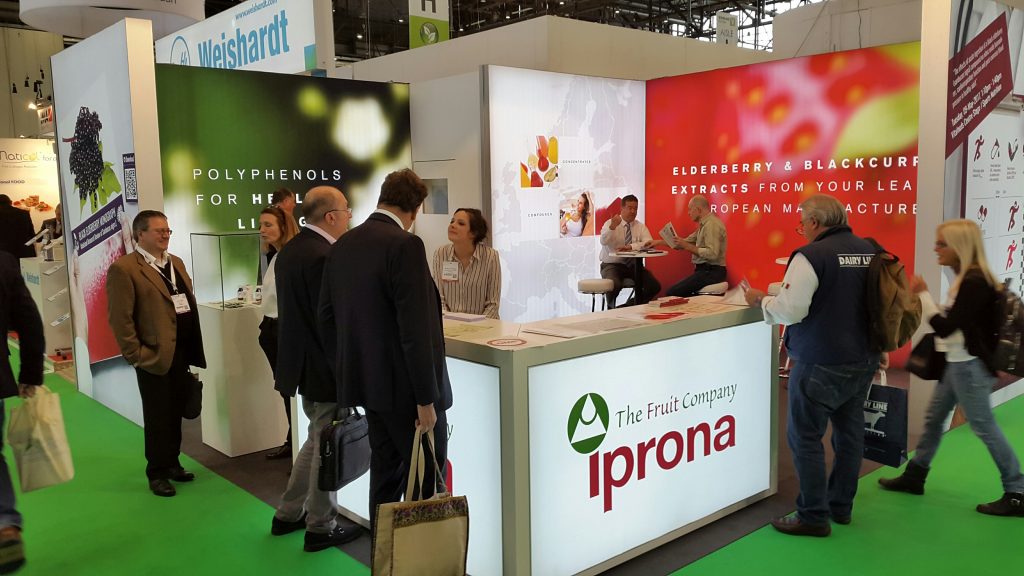 Also highlighted is Iprona AGs proprietary membrane ultrafiltration technology, an innovative method of extracting and enriching polyphenol-rich powders without the use of chemical extraction solvents or heat. Instead, this bio-friendly extraction method separates fruit components by size and polarity, and is purely mechanical, yielding active water-soluble fruit powders and liquid extracts which closely resemble the original fruit matrix. Iprona has used this technology to succesfully enrich Haschberg elderberry, french cassis and aronia ingredients.
(Read our article on Iprona´s membrane ultrafiltration technology)
See also: Human trial results published in Nutrients: Elderberry against upper respiratory tract infections