Breakthrough Nerina Strawberry Extract Offers Profound Health Benefits
Breakthrough Nerina Strawberry Extract Offers Profound Health Benefits
LANA, ITALY–(Marketwired – April 21, 2015) – Iprona AG, an international, premium  fruit processing company, announces a breakthrough nutritional extract made from Nerina Strawberries, a super variety with an even higher concentration of antioxidants and anti-inflammatories than ordinary strawberries.
According to Stephan Breitenberger, the Managing Director at Iprona, "Nerina will be marketed under the BerryPharma® Extract brand, as the latest innovation of berry-based health products for Iprona. This also signals Iprona's focus on product development for healthier living."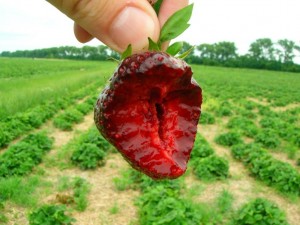 This promising new ingredient is ideal for companies looking to develop products for healthy living and reducing cardiovascular and Type-2 Diabetes risks. Strawberries, among the top 50 foods rich in antioxidants, are filled with active compounds such as anthocyanins, which promote vascular health. Dark, compact, Nerinas contain 18 times more anthocyanin, packing an unprecedented functional punch.
Iprona has invested in years of research and agricultural trials to develop the Nerina. Originating from wild strawberries, it is the result of selective crossing to maximize the fruit's natural polyphenol compounds. Its purple-black coloration indicates a high concentration of anthocyanins, and lends this variety its name — "Nero," the Italian word for black, with the diminutive, "-ina." Iprona uses a chemical-free, alcohol-free proprietary technology to standardize the fruit's nutritionally active compounds and natural flavors and aromas.
Nerina Strawberry Extract is available as a water-soluble, standardized powder and a liquid. It can be used in a formulations from smoothies to lozenges and gummies, from sports performance foods and drinks to traditional supplements.
Based on scientific evidence, strawberries have potent health benefits. Nerina Strawberry Extract may be used to:
Promote cardiovascular health.
Decrease the risk of Type-2 Diabetes and improve blood sugar regulation.
Neutralize the buildup of free radicals (oxidative stress).
Promote youth and vitality by reversing cellular damage.
Enhance brain function.
This exciting new Nerina Strawberry Extract again demonstrates the strategic skill of Iprona, a leading market supplier, to create vital extracts under its BerryPharma® brand. For more information, visit http://www.iprona.com/nerina
Iprona AG is the largest processor of elderberries in the world, and renowned for products that capitalize on the benefits
of health-giving red fruits. Other fruits processed by Iprona incude the French blackcurrant, Northern European Aronia, Bilberry, and North American Cranberry. Recently, Iprona began focusing on developing compounds for specific food and beverage applications. Its extensive portfolio of products also counts food grade color pigments.
Learn more about health-giving red fruits at www.the-berry-room.com